Water
DC Water Anacostia River Combined Sewer Overflow Control Division I and A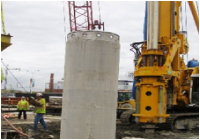 Client:

Belstar, Inc.

Owner:

DC Water

Location:

Washington, DC

Cost:

$ 110,000,000

Services:

Project / Construction Management Support Services
The project consists of two main construction projects - Division I Main Pumping Station, Diversion / Odor Control Structures and Division D Joint Base Anacostia Bolling (JBAB) Overflow and Diversion Structure that require management of complex, heavy construction projects using the Design- Build delivery method adjacent to or within water bodies.
CSA Group is part of the team led by Belstar, Inc., providing staff to fulfill various Project and Construction Management roles on the projects including:
Resident Engineering; Office Engineering; Inspection and Engineering Support. Services include providing leadership for project coordination, contract administration, and construction management while maintaining an agile work force that is available to respond to the needs of the project working seamlessly with DC Water's Clean Rivers Program (DCCR) staff, the Program Consultants Organization (PCO) and the various Design-Builder Contractors.