Disaster Recovery
Rehabilitation of the Tunnel and Brooklyn Plaza at the Hugh L. Carey Tunnel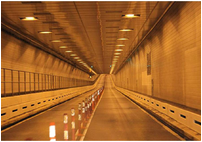 Client:

HAKS Engineers, Architects and Land Surveyors

Owner:

MTA-TBTA

Location:

Far Rockaway - Queens, New York

Cost:

$12,000,000

Services:

Mechanical and Electrical Inspections
This 4-year construction project for the Rehabilitation of the Tunnel and Brooklyn Plaza at the Hugh L. Carey (formerly Brooklyn Battery) Tunnel is partially funded through a FEMA grant for Sandy-related repairs (Project BB-28S) to prevent damage to the tunnel from future flood events. The remaining portion of this project (BB-28/Ph. II/54), consists of previously planned capital work funded from MTA B&T's Capital Budget. The total scope includes:
Replacing all traffic control and communications systems
Replacement all lighting system, including use of new LED light fixtures and emergency way-finding safety lights
Replacing the drainage pump and fire line systems
Replacing tunnel wall tiles, ceiling finishes, catwalks and duct banks
Rehabilitation of tunnel curbs and gutters
Repaving of tunnel roadways
Rehabilitation of the Brooklyn toll plaza to improve traffic flow
CSA is providing mechanical, electrical (low voltage) and fire protection construction inspection services. Our inspectors are responsible for:
Recording of construction daily reports and quantity computations to verify progress/work performed
Coordinating with the construction contractor, client, utilities and other agencies
Observation and visual inspection of materials, equipment and supplies delivered to the Project site
Monitoring, and if necessary, rejecting work that is unsatisfactory, faulty, defective, damaged, or otherwise non-compliant with the construction contract documents
Preparation of sketches and revisions to drawings as necessary, to resolve unforeseen, actual, field conditions encountered
Preparation of intermediate and final deficiency lists (punch-lists)
The work must be completed during off peak hours, nights and weekends when limited tunnel outages are available.